About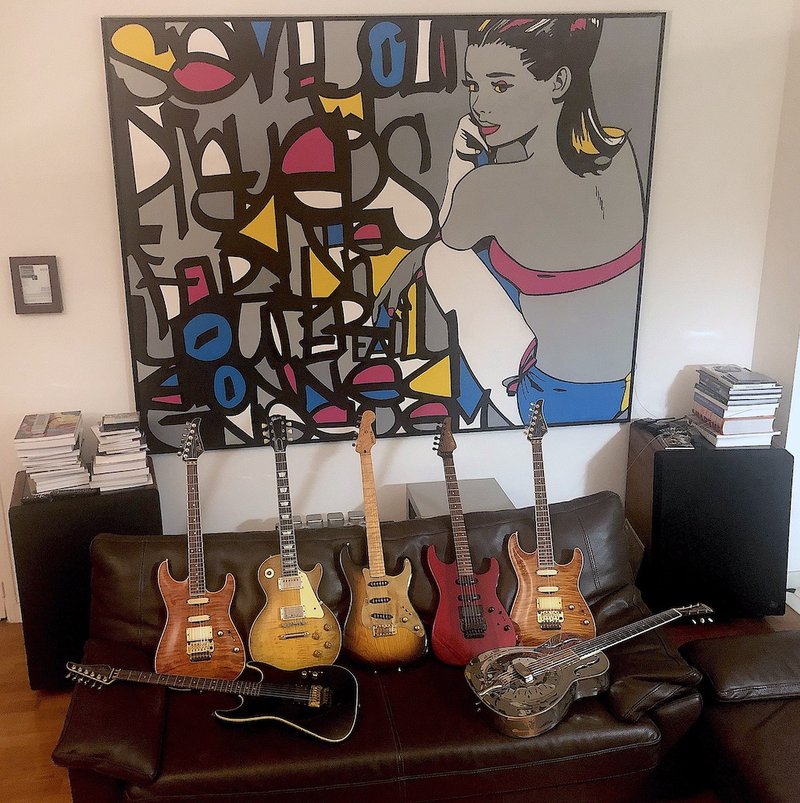 "Hope" painting by FenX (Loic Le Floch, born 1974) Acrylic on canvas, 180x230cm.
This collection includes more than 750 instruments and 350 electronic devices,
and more precisely :
632 Electric Guitars
114 Acoustic Guitars
5 Classical Guitars
29 Electric Basses
2 Acoustic Basses
2 Mandolins
2 Lap Steel
and
67 Vintage Amplifiers
70 Modern Amplifiers
18 Preamplifiers
133 Vintage Effects
123 Modern Effects
Every Private collection reflects the tastes and requirements of its owner.
In this collection, each guitar has been carefully chosen for its intrinsic qualities, its sound, its playability, the importance of the luthier who made it, that of the artist who painted or decorated it, for its provenance, its rarity, or even its links with famous musicians who have played on this model or who have owned it during their respective careers.
This collection is not exhaustive, its aim is not to bring together all the vintage and historical models to illustrate the history of the guitar and its evolutions over the ages, and although it includes around fifty vintage and historical instruments, this collection is aimed to show the most beautiful and the most famous instruments manufactured during the last 50 years, played by musicians closer to us; these musicians who made the history of modern music and rock'n'roll.
Some will notice that a few well-known brands are missing; it just reflects that the two main requirements for a musical instrument, which are the sound and the playability, have not been found in the models we played, so they didn't pass the test to be included here, but the quest is always on !
This website has been put online to share photographs and information about guitars.
This is not a commercial website, nothing is for sale here.
Enjoy!