Acoustic
Babicz 2006 Ltd-6S D-esque Brazilian Signature Soundport #21 EX-Jeff Babicz
Babicz 2006. Ltd-6S D-esque Brazilian Signature with Soundport in Natural Finish.
#21.
EX-Jeff Babicz's Personal Guitar.
2 Piece Spruce Top.
Brazilian Rosewood Sides & Back.
Mahogany Neck with Brazilian Rosewood Fretboard.
Tortoise Binding & Brazilian Rosewood Appointments.
This guitar also features patented Torque Reducing Split Bridge, Continually Adjustable Neck and String Anchored Lateral Compression Soundboard.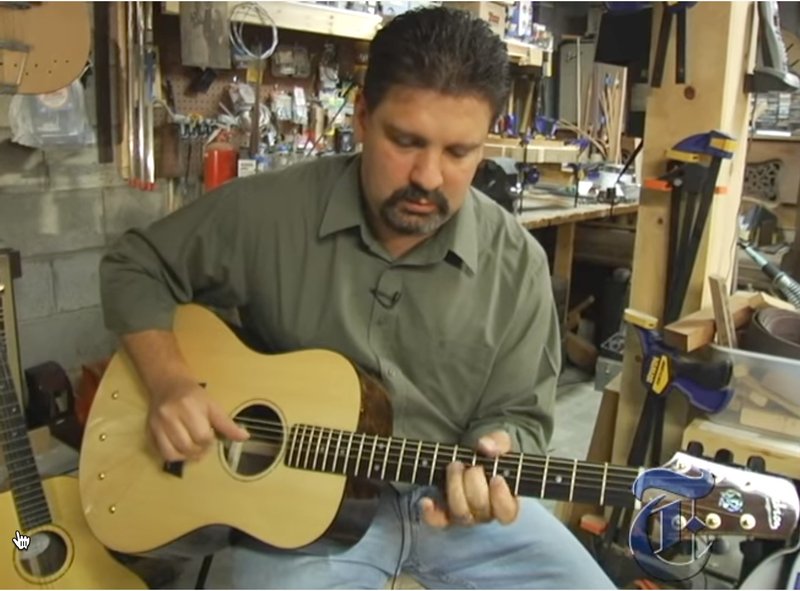 Jeff Babicz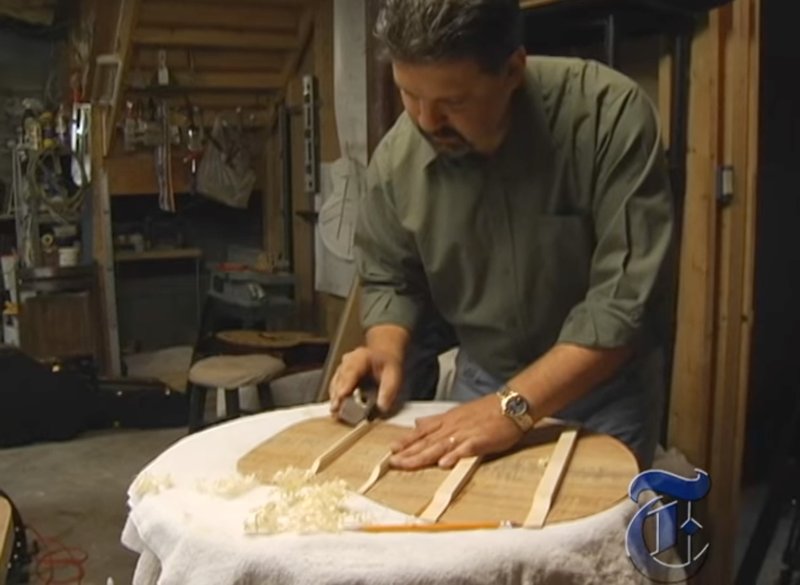 FRETS magazine review about this guitar model:
Babicz Signature D'esque
The D'esque represents Babicz's high-end Signature Series and they do a great job of presenting this beautiful instrument in the most flattering light. First you have the bomb-proof hardshell case that appears to be covered in faux rhino skin. Open it up and there's gorgeous purple velvet on the inside that would have made a great coffin for Elvis when he (allegedly) died. There's a temperature/hygrometer gauge inside to ensure that the D'esque is comfy.

The body shape is similar to a dreadnought (which explains the name, as in "dreadnought-esque") but with a narrower waist, smaller upper bout, and a rounded lower bout. Visually speaking, this guitar is simply stunning. Everything about it is top-notch, from the German spruce top (with a nitrocellulose, high-gloss lacquer finish) to the figured Brazilian rosewood back, sides, and headstock veneer to the one-piece Honduran mahogany neck, this is one of the sweetest looking acoustics I've ever seen. The tortoiseshell binding is luscious and the abalone inlay is very classy. The gold Grover locking tuners (with ebony buttons) reinforce the notion that this is a serious, high-end instrument.

The D'esque is sonically beautiful as well. It's loud and full and has a very present quality, helped out by the awesome side port that serves as your own personal monitor. Compared to the Identity, I hear more highs, more lows, and more volume out of the D'esque. It's inspiring to play, with a clear, distinct voice that works great for fingerpicking or strumming. A term some testers used was "modern" to describe the D'esque's timbres, and that seems fitting. Certain passages have a clarity on this guitar that I had a hard time matching on other acoustics—almost like a 6-string high-definition TV.
"Certain passages have a clarity on this guitar that I had a hard time matching on other acoustics—almost like a 6-string high-definition TV. "
I once again had a blast raising and lowering the neck on the D'esque and I discovered another cool thing: Babicz's Continually Adjustable Neck System makes it much easier to use more extreme tunings, both above and below standard pitch. For instance, dropping most acoustics down to DADGAD or below (say, to open C) typically necessitates using heavier strings to avoid the rattling and buzzing caused by the decreased string tension. Not with this guitar. I took out the trusty Allen wrench and simply raised the D'esque's action until the rattles went away. It took about five seconds. Conversely, I found that higher tunings, such as open e and eBeABe (DADGAD up a full step)—unadvisable if not impossible on most acoustics—were actually manageable on the D'esque because I could lower the action.

Unless you've tried a D'esque, it's fair to say that you've never played anything like this. It's not cheap, but it is in line with many handcrafted, top-of-the-line acoustics. This guitar would be perfect for players—admittedly well-heeled players—who don't want what an old-school acoustic offers. Or, more likely, the D'esque will appeal to players who already have some benchmark acoustics in their collection and want to add a future classic.

-Matt Blackett
Frets Magazine