Electric
Boogie-Bodies 1976-77 Stratocaster Zebrawood Sunburst #002
Boogie-Bodies 1976-77. Stratocaster Hardtail Zebrawood in Sunburst Finish.
#002.
1 Piece Zebrawood Neck-Through and 2 Wings for the Body.
2 Truss Rod Neck.
The Headstock is angled (13 degrees), so glued on.
Not Dots Ebony Fretboard with Brass Nut.
Schaller Tuners.
Hardtail Bridge.
FT400 Schecter Brushed Aluminum Pickguard with Schecter F500T Tapped Pickups.
This is #2 of the 9 built Neck-Through guitars with 13 degrees angled 70's Large Headstock that John Fadden and Lynn Ellsworth built back in 1976/77, and 1 of only 2 built in Zebrawood.
Eric Clapton had the other one.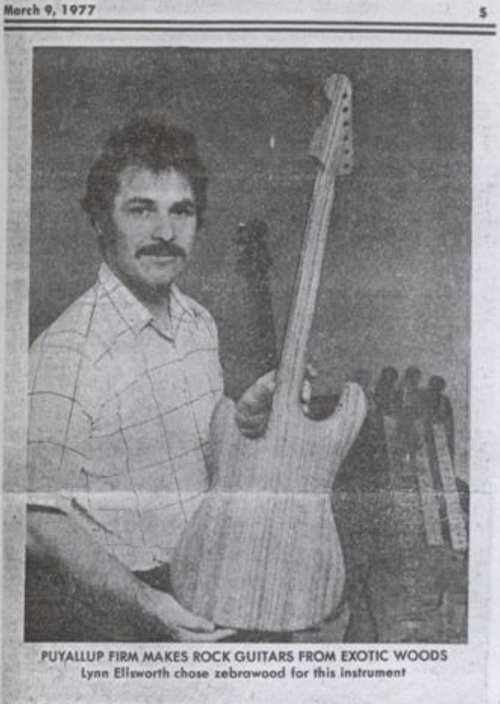 Lynn Elsworth with 1 Piece Neck-through Zebrawood Stratocaster, March 1977.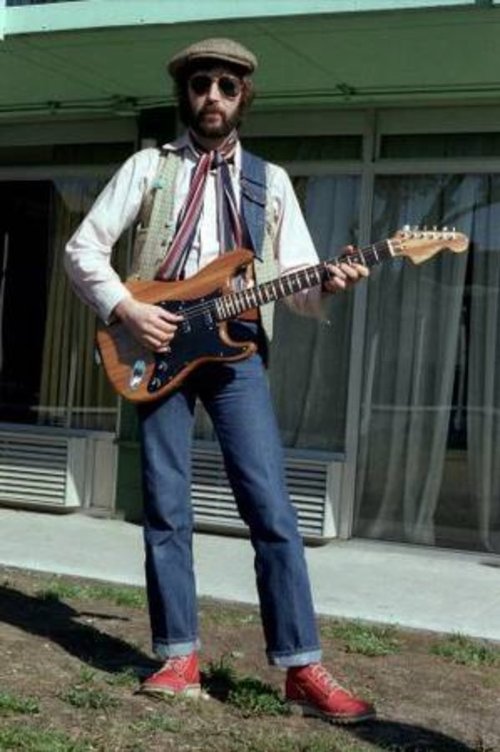 Eric Clapton with his Boogie-Bodies Zebrawood Neck-Through Stratocaster.
Information provided by Lynn Elsworth regarding these Neck-Through guitars:
One piece guitars made in the late 70's were always three pieces. The neck blank had two wings glued on and matched so that most looked like they were one piece. There were only 9 made and are extremely rare and collectable. VanHalen has one mahogany, Clapton has a Zebrawood with 2 truss rods, my ex-wife has a Zebrawood with two truss rods, Manny Charlton from Nazareth has a one piece Les Paul copy, Big Red has a maple one piece. Tom Cupp had a one piece birdseye maple that his wife sold when he got divorced, two were destroyed in a fire, Doug Rowell in Portland has a very rare one piece made from Bloodwood, Mighty Mite (Randy Zacoto) had a beautiful birdseye maple one piece. The one piece guitars were made for Boogie Bodies by John McFadden
Wayne Charvel's words regarding Boogie Bodies:
Wayne hired Lynn Ellsworth in 1975/'76 to create guitar bodies to sell at his shop in California. Lynn started out as "First "Impressions" and officially created Boogie Bodies sometime in 1976 and partnered with Jim Warmoth, a retired watch maker and steel worker, to help create templates and machinery to increase production, especially in the neck department.
Boogie Bodies supplied bodies to mainly Wayne Charvel until 1978 but also briefly to Dimarzio and Mighty Mite.
Boogie Bodies were a guitar parts manufacturer most famous for building guitar necks and bodies from 1976-1979 for a variety of high profile artists during the era.
The most well known era is from 1976-1979 when Lynn Ellsworth teamed with Jim Warmoth, but there are an extreme amount of transitional periods which become convoluted, especially after Lynn Ellsworth and Jim Warmoth split in 1980.
For more details regarding Boogie-Bodies see:
http://www.sparkslinger.com/guitars/BoogieBodies/boogiebodiesinfo.html
For Boogie Bodies and the other companies, see:
https://vanhalengear.com/boogie-bodies-history/#:~:text=Wayne%20Charvel,-Wayne%20started%20his&text=Wayne%20hired%20Lynn%20Ellsworth%20in,parts%20to%20Wayne%20until%201978.