Electric
Fender 1994 Stratocaster Playboy 40th Anniversary Painted by Pamelina H. #055 of 175
Fender 1994. Stratocaster Playboy 40th Anniversary.
#DE2 - 055 of 175.
Custom Shop Diamond Dealer Edition.
Painted by Pamelina H.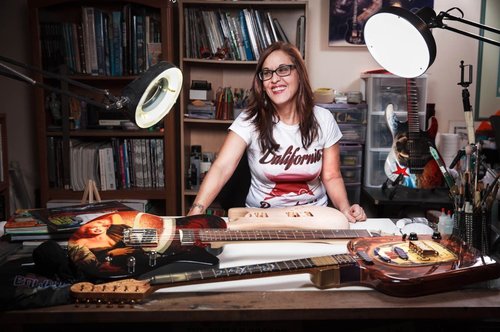 History Behind the Guitar:
In 1953, the first issue of Playboy magazine featured Monroe on the cover and used Tom Kelly's 1949 calendar nude shot of the pre-movie star Marilyn as its first centrefold.. In early 1994, that now iconic nude of Marilyn Monroe graced the Fender Custom Shop Limited 40th Anniversary Commemorative Playboy Stratocaster. Only 175 were made.
California artist, Pamelina H., creator of the Fender Custom Shop logo, pulled out all the stops on this, her air-brush-with-paint-brush-details interpretation of Kelly's hot shot. The image and guitar are drop-dead gorgeous. Pamelina is the Fender Custom Shop's go-to artist. Master Builder and Custom Shop Manager John Page told the Strat Collector New Desk that "even in the early years her work was spectacular, it just seemed to have a soul, you could feel the artist coming through. There are a lot of painters out there but very few true artists. Pamelina is one of the few."
Her original design was rather tame; she felt it more appropriate for Fender. But, as she told the SCND, "the guitar with my original 'no nude' design was presented to Playboy and scrubbed. They asked if, instead, the first pin-up of Marilyn Monroe could be done…I painted the Marilyns for a year…"
"Since each one (of the 175) is painted by hand, there's always some very minor variation. That's what makes each instrument special and unique."
As if Pamelina's artwork wasn't enough, this instrument features acclaimed artist LeRoy Neiman's Femlin character on the headstock and Art Paul's classic Playboy rabbit-head logo as fingerboard inlays.
The guitar is ranked on Tom Watson's "A-List" as the #2 Fender Custom Shop Strat; (Pamelina's '93 Harley taking the top spot.)
The number after the guitar is the total number of units manufactured.
"A" List
1993, Harley-Davidson 90th Anniversary Stratocaster. 109
1994, Playboy 40th Anniversary (Marilyn Monroe) Stratocaster. 175
1997, Jimi Hendrix "Monterey" Stratocaster. 210
It is featured in the art guitar showcase book, Fender Custom Shop Guitar Gallery, centerfold-style, on pages 122-123.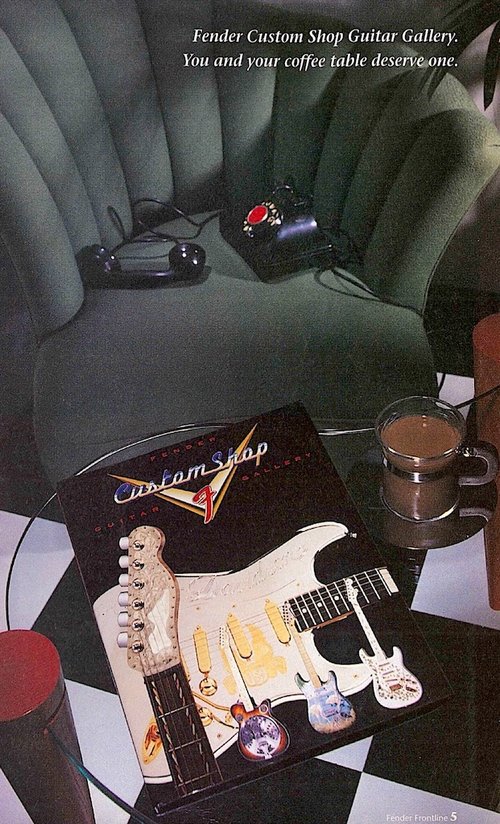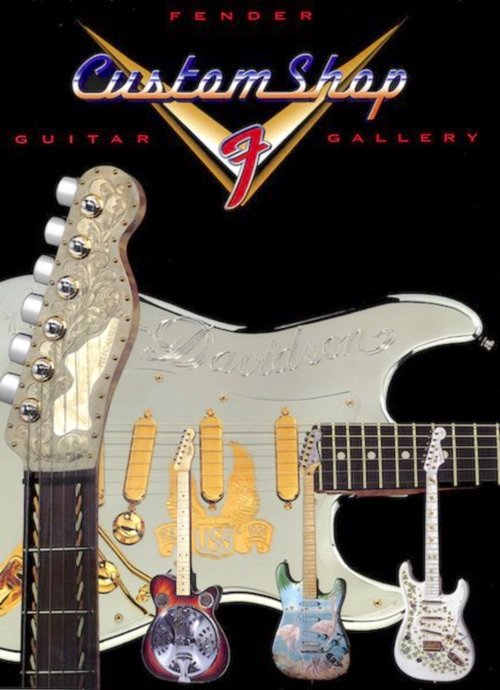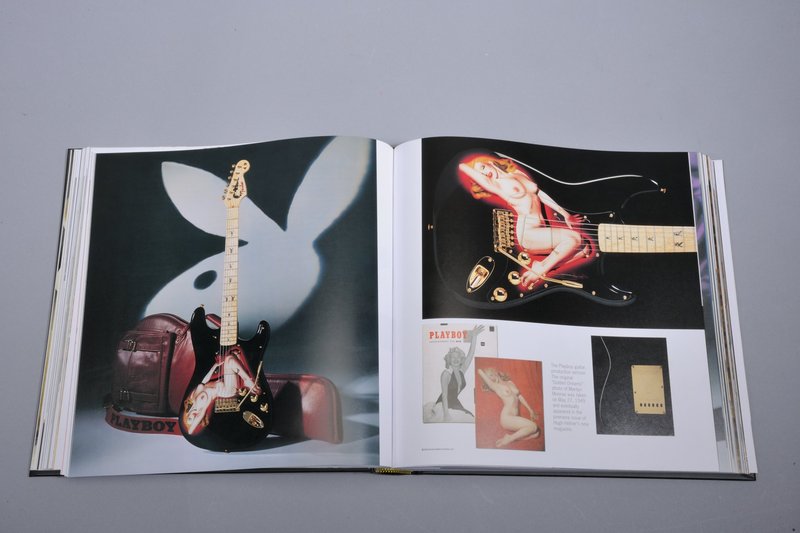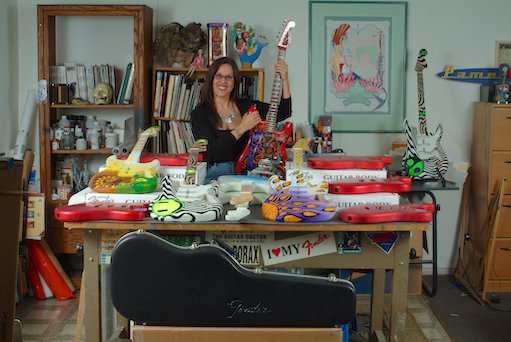 Photo in Studio © Pamelina H.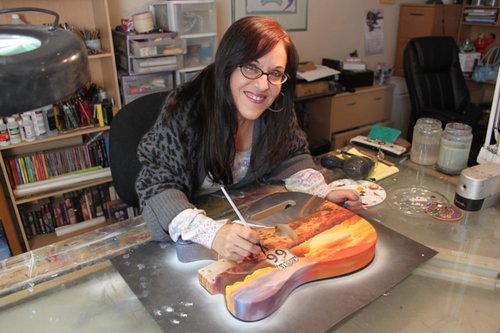 Extract From Vintage Guitar Magazine
This article originally appeared in VG December 2017 issue
Creating The Marilyn Strat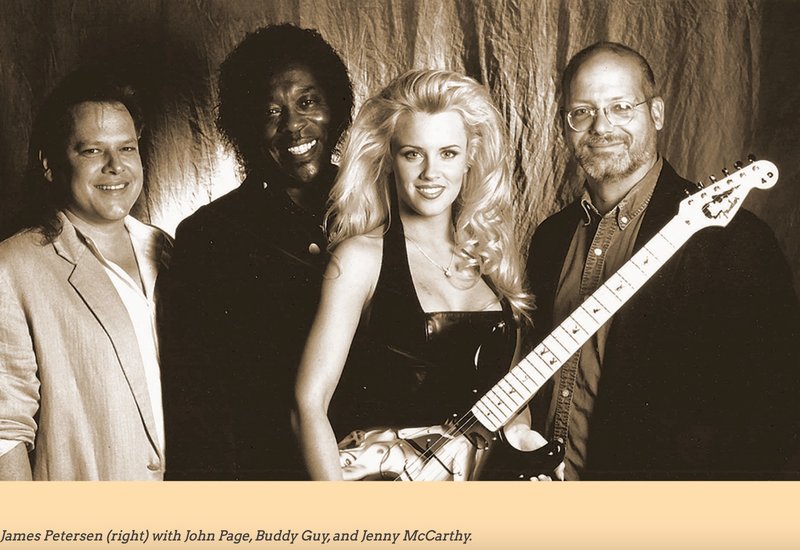 Caught in the Act
by James R. Petersen
In 1973, Playboy hired me to give sex advice, and for 20 years I wrote and edited "The Playboy Advisor." If you had a question regarding fashion, food, sports cars, dating dilemmas, or etiquette, I'd find an answer.
When hired, I was a 25-year-old Boy Scout. How was I qualified to give sex advice? I'm not sure, but the Scout Motto is "Be Prepared," and from the time I was 12 I read everything I could about sex in case it ever happened to me. To increase the odds, I learned to play guitar.
I wrote Playboy's first profile of Bruce Springsteen and bailed members of the E Street Band out of jail in New Orleans – bond for a traffic offense, but still. On the side, I played acoustic, wrote songs, and freelanced for other magazines. While writing a celebration of "The Guitar That Rocked The World" for American Way magazine, I discovered an odd coincidence – Leo Fender created his "electrified Spanish guitar" at the same time Hugh Hefner first pieced together a men's magazine he called Stag Party. December, 1953. They emerged with the Stratocaster and Playboy – two things that changed America and bothered parents everywhere.
Jump to 1993. I asked sources at Fender if they were planning a 40th Anniversary Strat that we could feature in the magazine's Gift Guide. John Page had a better idea.
"How about a 40th Anniversary Playboy Stratocaster?"
The Custom Shop had just created a limited-edition Harley-Davidson Strat for that company's 90th anniversary.
John and I had conversations about working for legends, the limits imposed by rivalries (Fender vs. Gibson, Playboy vs. Penthouse), and how to make the familiar new. We were peers.
Then the fun began. The Harley Strat had been simple – it had to have enough chrome to blind the sun, it had to say "Harley-Davidson," and it had to be loud. For Playboy, John suggested a guitar with a vintage feel, cream colors, and some kind of pinup in the style of World War II bomber art. Playboy published a Vargas girl every month, but the artist's best-known work was associated with Esquire. We talked about using something by Keith Haring, a painter whose graffiti-like cartoon characters defined the decade, or Pat Nagel, whose stylish images accompanied the "Advisor" column. While likely neat, they would have become "the Keith Haring Strat" or "the Patrick Nagel Strat."
I played with parking the famed Rabbit Head logo on the body, set it aside, then asked around the office, "Should the image be clothed or unclothed? Recent Playmate or the original? Could we embed the actual Marilyn Monroe centerfold from the first issue?"
Really, there was only one choice; Hef viewed the Marilyn calendar shot as the soul of the empire. The year before (1992), he had purchased the mausoleum next to Marilyn's in the Westwood Village Memorial Park Cemetery. As a prelude to the 40th anniversary, he autographed a limited-edition Monroe photo.
So, I sat and my computer and clicked the image within the curves of the Strat. She fell into place as though Leo had designed the guitar with Marilyn in mind. I played with colors, including Marilyn reclining on a red guitar. John wanted something original, one of a kind. He turned to his community of artists and came back with a Pamelina Hovnatanian (a.k.a. Pamelina H.) painting on a black backdrop. Page wanted a Femlin (who adorned Playboy's "Party Jokes" page), so Pamelina sketched a Femlin for the headstock. I played with the Playboy typeface, trying it between the tuning pegs, putting it on the 12th fret. John and Playboy art director Tom Staebler looked at the prototype and said, "Redundant!" My five-year-old daughter saw me playing with paper and scissors and suggested putting the Rabbit Head where the dots would be. Three elements – the Marilyn, the Femlin, and the Rabbit Head – said "Playboy."
This all happened pre-Photoshop, so I was photocopying images from Fender press releases, then sized various Playboy images to move around. A folder of my attempts contains an alternate Femlin and the final 40th-anniversary logo, which we considered putting on the third fret before placing it on the headstock.
The Custom Shop finished the prototype in August of '93. When it arrived, we were blown away. Pamelina had created a living, breathing Marilyn. The 175 production units used the 40th anniversary logo approved by Hef (numbers over a Rabbit Head) and the 12th-fret logo with a double rabbit-head inlay, removed a tiny Rabbit Head from Pamelina's original painting, found an original LeRoy Neiman that fit the headstock rather suggestively, and added gold-etched cavity covers to the back. The guitar sold with an embossed Playboy strap, a red silk chemise "modesty panel" so stores could display the guitar, a red-leather gig bag, and a flight case. Readers caught their first glimpse in that year's Christmas Gift Guide. Playboy got 25 of them, four of which were framed and hung in offices.
I kept number 40 in my office, the neatest artifact from a long career, still trying to impress women and visiting writers. I also kept a black and white photo of Playmate of The Year Jenny McCarthy presenting one of the guitars to Buddy Guy at his Legends club in Chicago.
John gave me the prototype and I kept it in a closet, where it survived curious kids and repeated decluttering frenzies. I resisted the urge to play it – I have a Clapton Strat for that – and have read that the Marilyn is the second-most-sought-after Custom Shop limited edition, and counterfeiters have turned their attention to it. Dream on. The prototype is magic, caught in the act of creation.