Electric
Gibson 1982 Moderne Korina Vintage Natural #77 of 143
Gibson 1982. Moderne Korina in Vintage Natural Finish.
All Korina Body & Neck with Unbound Rosewood Fretboard.
Gold Hardware.
#77 of 143 built.
#C 077.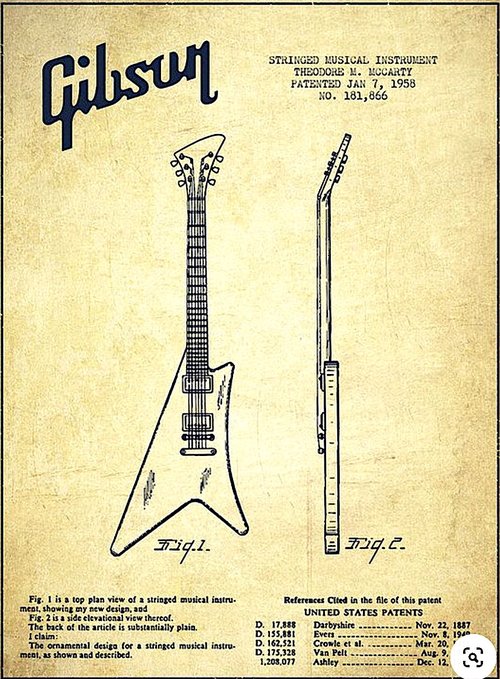 Here's one of the rarest of all Gibson guitars – the Gibson Moderne, designed and registered in June 1957 but not put into production until 1982!
At the end of the 1950's, Gibson had to respond to the Fender juggernaut with flashy new designs.
Ted McCarty developed in co-operation with prominent Detroit auto designer Ray Dietrich, three new designs.
The Explorer, Flying V and Moderne were registered with the US Patent and Trade Mark Office during 1958. Only the Explorer and Flying V were put into production – were not successes, and fell off the catalog in a short time. It was decades before the Rock world caught onto them and other companies started using the designs, and Gibson put them back into production.
The Gibson Moderne, however, existed only in design or a vanishingly small number of prototypes – which did in fact vanish. The Moderne was a thing of legend until 1982, with the introduction of the 'Heritage' series and the Gibson Moderne Heritage, built as the originals were, of Korina or African Limba (technically named Terminalia Superba).
For the Heritage series, Gibson produced a very limited number of Korina Moderne Heritage models during the period 1981 to 1983. As with the originals, Korina was used for the body and neck, with an unbound Rosewood fingerboard. The headstock has a unique splayed design, and includes four pivot points align the A, D, G and B strings. The hardware is standard Gibson, with a pair of humbuckers passing through a three-position selector, individual volume controls and a master tone control.
Kluson Deluxe style tuners with plastic Keystone buttons and a stock tune-o-matic bridge and stop tailpiece complete the hardware. All the visible metal parts are gold plated.
Please have a look at this very interesting video from The Trogly's Guitar Show about these guitars
"The Gibson Moderne History"