Electric
Gibson 2001 Les Paul Standard '60 RI US Flag 9/11 Tribute w/Blue Back #1
Gibson 2001. Les Paul Standard '60 RI US Stars & Stripes Flag Design September 11th Tribute with Blue Back.
#1 of approximately 30 built.
Dated 09/11/2001.
Custom Shop.
#091101.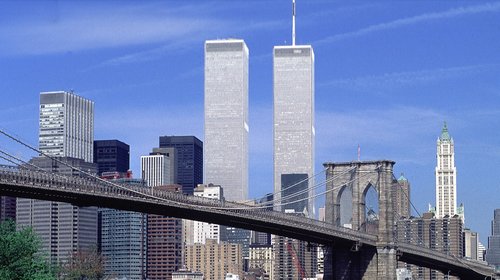 New York City skyline with Brooklyn Bridge in the foreground and the original World Trade Centers in the background.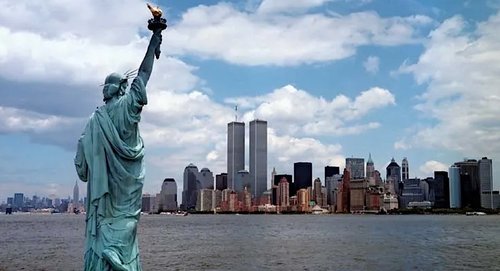 The Statue of Liberty (foreground) and the Manhattan skyline as it appeared before the September 11, 2001, attacks.
SERIAL NUMBER 091101 ... YES... September 11, 2001.
The Story: On 9/11, Rick Gembar told his team he wanted to build Stars and Stripes Les Pauls with one going to each of their top dealers and shipped by the end of September. There were some templates left over from a Tommy Hilfiger Corporate guitar, (that you can see on guitarmotel.net) so they would use those to cut down the time needed to create these.
They were in such a rush, that after the fact, they noted that they had an extra stripe under the stars... one more stripe under the stars than the American flag itself. It was already too late... However they corrected it on future stars and stripes LPs made in 2001 and beyond.
Already in 2001, the next run of 50 guitars, 25 with blue back and 25 with red back were built with the correct US flag and numbered as regular Gibson guitars. You can see one of those 25 red back LP on guitarmotel.net as well.
ONLY Stars and Stripes Les Paul run with a red center stripe.
ONLY Stars and Stripes Les Paul run with the WRONG number of stripes under the stars.
ONLY Stars and Stripes Les Paul run with the serial 091101.
I have seen #17, #22, and #26 with the same date and numbering in gold, and the same "wrong" flag.