Electric
Gibson 2001 SG Standard Historic '61 RI "Eric Clapton's Fool" Custom Painted
Gibson 2001. SG Standard Historic '61 RI.
Eric Clapton's 'Fool' custom paint job done by Freedom Custom Guitar Research in Tokyo Japan.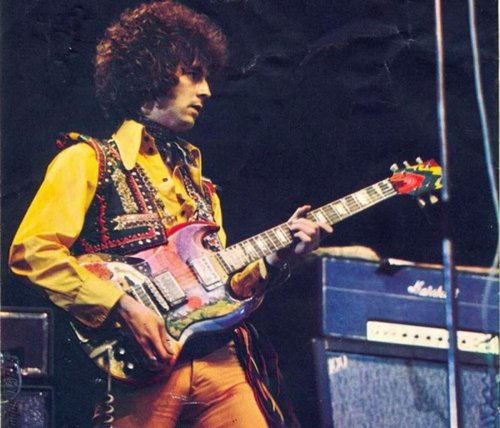 Eric Clapton, March 25th 1967 RKO Theatre, New York
From ERIC CLAPTON'S THE FOOL Facebook page.
Clapton's Fool started life as an SG. For many years, some speculated it was a '61 SG/Les Paul, but the proper view came to be that it is a '64. A primary bit of evidence is the pickguard, which has six screws as the later years' pickguards do, rather than the earlier five screws, as was standard on the '61 SG/Les Paul. In addition, it has patent-number pickups, not the earlier "Patent Applied For" pickups Gibson ceased using circa 1962. The guitar was purportedly originally owned by Beatle George Harrison, who gave it to Clapton circa '65, after Clapton's '59 Standard that he had been using in Cream was stolen. 
In '66, Cream was making plans to go to the United States the following year – 1967 – the year of "the Summer of Love." Murray the K, the WOR-FM disk jockey in New York, was organizing a week-long, never-to-be-seen-again, all-stars/all-hits revue.
Cream knew its debut had to have maximum impact on their new American audiences, so they enlisted the help of a pair of then-obscure Dutch designers who later became an art group known as The Fool, who were to play an important role, in rock and roll, and more broadly, in the psychedelic culture of the late '60s.
The Fool began with two members, but eventually grew into a collective; its core members were Simon (a.k.a. Seemon) Posthuma, Marijke Koger, and eventually, Josje Leeger, Koger's art-school friend.
Others, particularly photographer Karl Ferris and Barry Finch, were also associated with the group.
Posthuma and Koger, who met circa 1961 and a few years later began participating an "alternative" Amsterdam boutique called Trend, were living on the island of Ibiza (off the coast of Spain) before relocating to London in early '66 with a grant from the Von Pallandt Foundation.
Eric loaned the Guitar to "Jackie Lomax" a songwriter known mostly for the song he wrote for Eric Burdon of  "The Animals".
The song  was covered by another great group "Grand Funk Railroad"  Grand Funk had the hit with it 10 years later "Inside Lookin' Out". I'm not sure just how long Jackie had the guitar in his possession but in 1972 he SOLD the guitar to Todd Rundgren for an undisclosed sum of money. (Eric never gave Jackie Lomax the guitar, he just loaned it to him).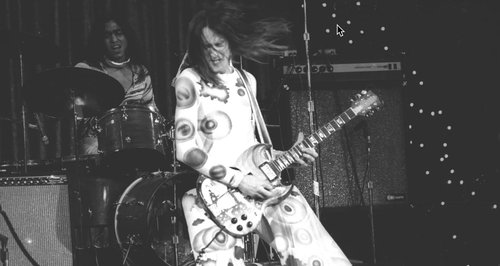 Todd Rungren with Eric Clapton's SG Fool.
Todd has had the guitar for more than 28 years. He occasionally played the ex-Clapton SG until the mid-'90s, nicknaming the guitar Sunny as a nod to Eric's use of it on "Sunshine Of Your Love."
Eric put together some of his guitars for an auction in 1999 to benefit his Crossroads charity, and he asked Todd to donate the SG. Todd declined, because of tax complications, but the following year he sold the guitar in an online auction for $120,000 and gave a percentage to Crossroads.
The guitar was apparently sold again later for a sum said to be closer to $500,000.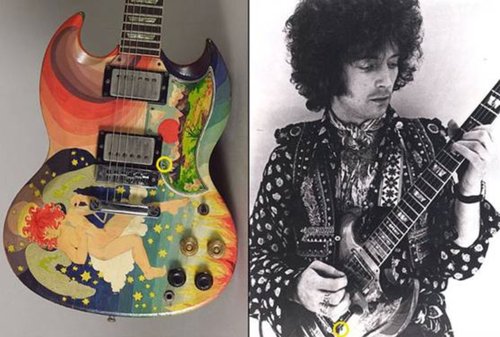 Eric Clapton and his Fool SG.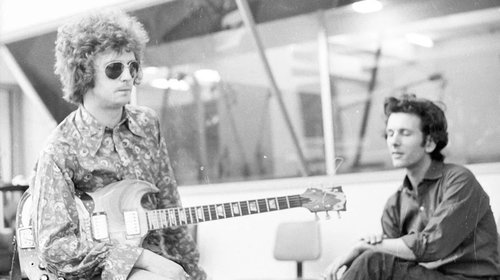 Eric Clapton with his Fool SG and producer Felix Pappalardi in 1967.