Electric
Jackson 1997 Roswell Rhoads #100 of 123
Jackson 1997. Roswell Rhoads #100 of 123.
The only Roswell Rhoads which was exported to Japan and sports an Headstock engraved
"Grover Jackson", the founder's name of Jackson Guitars in 1980.
(Jackson sold to Fender in 2002).
The Jackson Roswell Rhoads was a limited edition of 123 guitars made in 1997. It was a variation on the classic Jackson Randy Rhoads shape, with a UFO theme running through it. The name was taken from the location of a supposed alien space craft crash in the 1947, Roswell, New Mexico.
The Roswell body shape was based upon the popular Randy Rhoads shape drawn up by the late guitarist in 1980, but the famously angular, pointy shape of the regular RR modesl was ditched in favour of a much more curvy design, which kept the basic body shape but warped the body into an asymmetrical shape as opposed to the regular offset V shape. The inlays were crop circle designs, befitting the alien/jet age theme of the guitar.
The body is made of 6061-T6 aluminum, an aircraft-grade metal which was hand-carved and polished in the Jackson Custom Shop. The guitar featured a single humbucker pickup custom made by Tom Holmes and a fixed bridge.
It also had a set maple neck with a satin grey finish, and the tuners were unusual LSR gearless type built by Bill Turner of LSR Tuners in Chino, California. The inlays are crop circle design.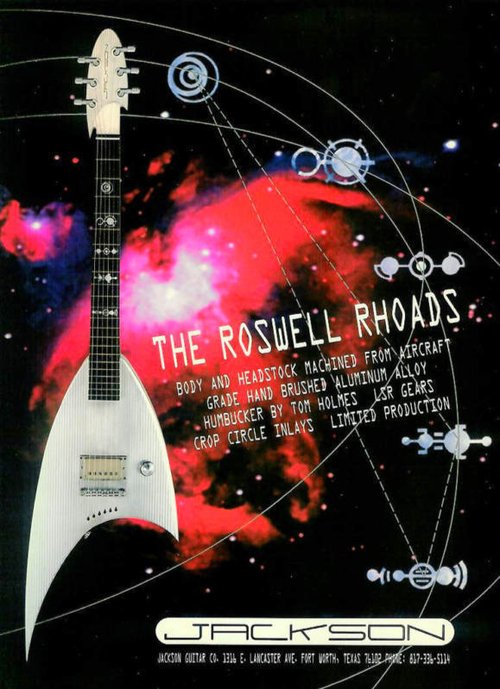 Please have a look at this very interesting video from The Trogly's Guitar Show about these guitars