Electric
Kramer 1989 Gorky Park Signature Soviet Red
Kramer 1989 Gorky Park Signature in Soviet Red Finish.
The Gorky Park with its balalaika shape, graphics and signatures of the band members.
1 Seymour Duncan humbucker Pickup.
Floyd Rose Tremolo Bridge.
Chrome Hardware.
#1852.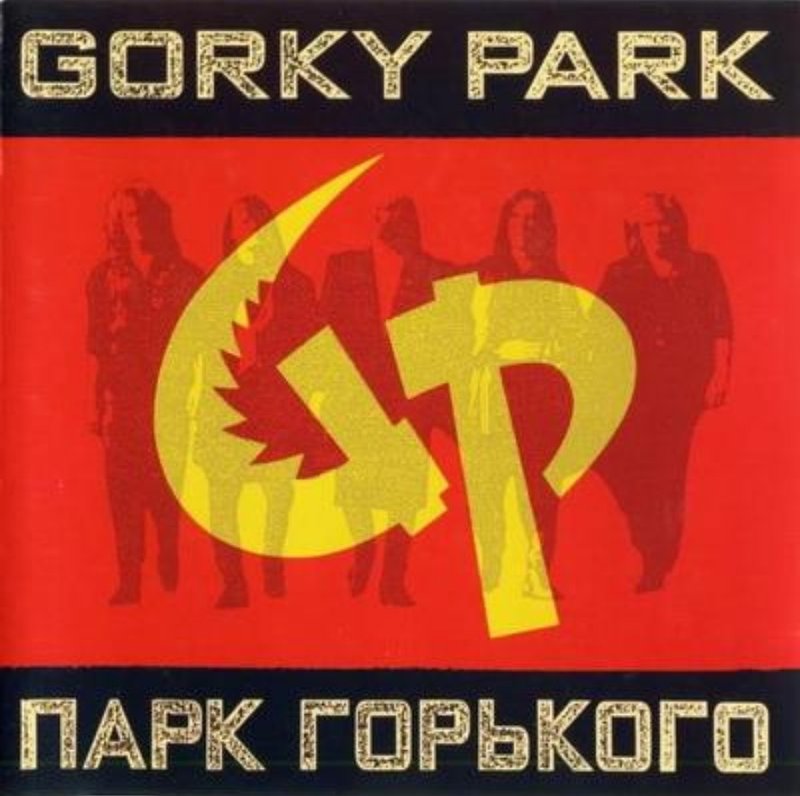 Illustration Cover for the debut album of the band
Gorky Park is the debut album by Russian hard rock band Gorky Park, released in 1989 by Mercury Records, after Jon Bon Jovi & Richie Sambora of Bon Jovi expressed interest in the band (and co-produced the album) and got them signed to Mercury, Bon Jovi's label. It features the band's first hit single, "Bang", that has a mix of Russian and English lyrics and was put into rotation on MTV.
Alexei Belov: lead guitar, balalaika, all keyboards, background vocals
Nikolai Noskov: lead vocals, background vocals
Alexander Minkov: bass, background vocals
Yan Yanenkov: lead guitar, acoustic guitar, background vocals
Alexander Lvov: drums, percussion, background vocals
Extract from
HAIR BANDS, SOVIET RUSSIA & THE 1989 KRAMER GORKY PARK ELECTRIC GUITAR
By Michael Wright
You can read full version here:
https://www.myrareguitars.com/1989-kramer-gorky-park-electric-guitar
In 1987 singer Nikolai Noskov, Sasha Minkov on bass, Sasha Lvov on drums, and Jan Ianenkov on guitar formed a rock band called Gorky Park, named after the big public Moscow park in honor of Maxim Gorky. The band was able to travel to the US and soon acquired champions including Frank Zappa and Kramer advocates Jon Bon Jovi and his axeman Sambora. In 1989 the band's self-titled album debuted and they scored three successive hits and MTV rotation, the first popular Russian hair band.
Probably through the Sambora connection Kramer's Dennis Berardi became interested in the band and formed a management company to handle them. The Kramer Gorky Park was intended to be a promotional item in support of that effort.
Built for Kramer in Korea and introduced in 1989 or early 1990, the Gorky Park had a cool balalaika shape and graphics and signature of the band. Ballalaika. Russia. Geddit? The guitar really wasn't all that bad, actually. It has one hot Seymour Duncan humbucker and a licensed Floyd Rose.
Unfortunately, the Gorky Park arrived just in time to see everything crumble. In 1989, the Iron Curtain came down, as Berliners attacked the Berlin Wall and dismantled it. I still have a piece in a box my parents gave me as a present! Gorky Park returned to the exuberance of liberation in Russia. Alas, the enthusiasm for hair bands in the US was also beginning to crumble as alternative rock represented by the Seattle Sound was coming on. Lastly, Kramer guitars itself had become a house of cards and was beginning to crumble. Bad management and other bad things began to undermine it—it probably didn't help that Berardi was off focusing on Gorky Park. By the end of 1990 Kramer guitars also collapsed.
Whether the Gorky Parks were ever even distributed is unknown. How many exist is also unknown. Many of them were bought up (or turned over) to some large dealers, as I recall, and were liquidated for like $159 a piece. Gorky Park, the band, continued to be popular in the former Soviet Union, but became mostly a footnote to '80s rock and guitar history. Today these guitars show up every so often and can actually trade for quite a bit more than the clearance price! In the early 2000s the Kramer name was sold to Gibson by its owner, Henry Vaccaro, a former principal in Kramer, in order to finance the now-defunct Vaccaro Guitars venture. Like the Gorky, modern Kramers are budget imports, but with no connection to the former Soviet Union!

Alexei 'Alex' Belov was the other guitar player in GP, and had as his main guitar a balalaika shaped electric made in Russia from an old piano soundboard.
Kramer built him 5 more in the Spector division of the company, 2 of which were build up and went on the road and the remaining 3, because of budget issues, were mothballed.