Acoustic
Laskin 1995 Semi Jumbo OM Cutaway "Shoeless Joe"
Laskin 1995. Semi Jumbo OM Cutaway "Shoeless Joe"
2 Piece Bearclaw Figured Sitka Spruce Top.
Brazilian Rosewood Sides & 2 Piece Back.
"Armrest & Ribrest" edge beveling.
#110395.
This guitar is featured in p.108~109 in his book "A Guitarmaker's Canvas".
The beautiful inlay is inspired by major league player "Shoeless Joe". (see a short history bellow)
William Laskin decided he wanted to be a guitar maker at age 17 when he saw a Jean Larrivee instrument. He apprenticed with Jean for two years before setting out on his own. He has been building guitars since 1971. His goal for his guitars is "clarity, sweetness of tone, and a full, round musicality." Laskin is also known for his intricate inlay work. Larry Robinson, author of The Art Of Inlay, calls Laskin "the most astonishing inlay artist in North America."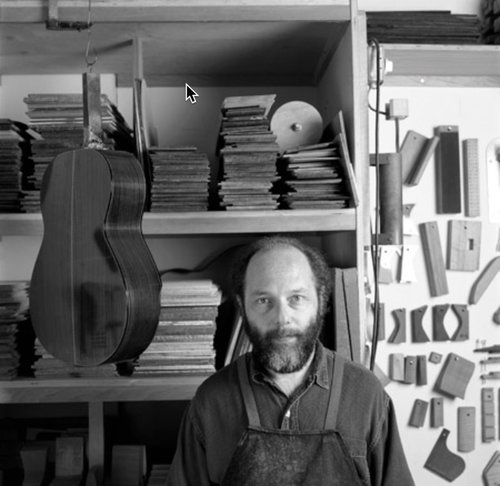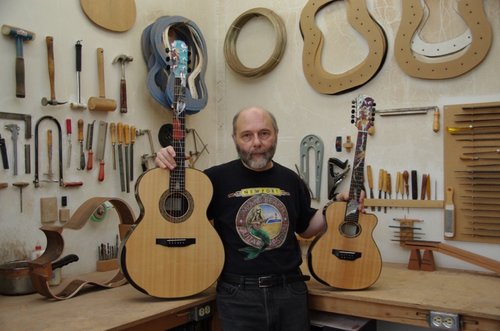 William "Grit" Laskin
guitarmaker since 1971.
The first and only musical instrument maker to receive Canada's most prestigious national craft award, the Saidye Bronfman Award for Excellence.
Originator of the built-in "Armrest" and "Ribrest" edge beveling.
Co-originator of the Sideport Soundhole.
World renowned for his groundbreaking Inlay Art.
A founder of the Association of Stringed Instrument Artisans (ASIA) and author of the first code of ethics for the luthier's trade.

Biography
William "Grit" Laskin wears many hats. His primary one is that of guitarmaker, a profession he has pursued since 1971. His steel-string, classical and flamenco guitars are known and coveted around the world. Players of his instruments include: k.d.lang, Ben Mink, Rik Emmett, Tom Cochrane, Jesse Cook, Wayne Johnson, Tom Chapin, Garnet Rogers, Stan Rogers, Ottmar Liebert, Christine Lavin, Ken Whiteley, Cathy Fink,& Marcy Marxer, James Keelaghan, Kobukuro (Japan). Commissions from guitarmaker colleagues and others within the trade include: Bill Collings (Collings Guitars, Texas), Roger Sadowsky (Sadowsky Guitars, New York), Dick Boak (director, Martin Guitars, PA), Bill Kaman (Kaman Industries—Ovation Guitars), Larry Sifel (pres., Pearlworks, MD), Chuck Erickson (the Duke Of Pearl). The Museum Of Civilization, Canada's equivalent to the Smithsonian, has four Laskin guitars in its permanent collection.

In 1997, He received Canada's prestigious Saidye Bronfman Award For Excellence, the first and only instrument maker to be so honoured. He is also an elected fellow of the Royal Canadian Academy of the Arts, and included both in the University Of Toronto's "Who's Who In Canada" as well as the Encyclopedia of Music In Canada. Most recently he received the Estelle Klein (lifetime achievement) Award, from the Ontario Council of Folk Festivals.

In addition to building the instruments, Laskin uses them as "canvases" for his engraved inlay art. He is now internationally acknowledged as having single-handedly taken the tradition of musical instrument decoration beyond the purely decorative. For Laskin, the inlay medium has become a tool for communication, not merely embellishment.

To encourage the growth and public awareness of the luthier's craft, he helped co-found in 1988 (and twice was President of) the Association of Stringed Instrument Artisans (A.S.I.A.), the international trade organization geared to professional builders and repairers of musical instruments. As president, in 1993, he authored the first Code Of Ethics for luthiers.

An additional but related hat Laskin wears is that of musician/songwriter/singer. For 40 years he has been a multi-instrumentalist performer of music, playing guitar, mandolin, Northumbrian smallpipes and concertina. He continues to give the rare concert at clubs and music festivals across Canada and the northern US. He has recorded four solo albums of original music — the first two on Stan Rogers' Fogarty's Cove label — as well as numerous others as a member of various bands. His songs have been recorded by other artists such as Pete Seeger and The Tannahil Weavers.

Still wearing the musical hat, in 1996, Laskin, in partnership with Ken Whiteley, Paul Mills and Bill Garrett, three veteran producer/musicians, founded BOREALIS RECORDS, Canada's first national Folk music label. 15 years later, BOREALIS represents more than 50 different acts and has a catalogue of 125 releases. IN 2005 Laskin gathered more like-minded folks and created the first full-juried national awards for Folk music, the Canadian Folk Music Awards (CFMA). In addition, Laskin is one of the coordinators of Canada's longest-running adult folk music camps, The Woods Music And Dance Camp. He also sits on the Canadian Independent Music Association (CIMA) Board of Directors.

Laskin's final hat is that of author. Most recently (October, 2003) he published A Guitarmaker's Canvas ; The Inlay Art Of Grit Laskin. In 1996 he published his first novel, Angel Could Smell The Fire. His first published book however (1987) was a celebration and documenting of Toronto's thriving and diverse community of professional musical instrument makers: The World Of Musical Instrument Makers; A Guided Tour. It was the first book in North America to document contemporary makers
"Shoeless" Joe Jackson
"Shoeless Joe Jackson" Joseph Jefferson Jackson was the eldest of George and Martha Jackson's eight children. As a child Joe worked alongside his father in a textile mill in Brandon Mill, S.C. devoting little time to school. Outside of the mill his interests centered on the game of baseball, and by 13 Joe was starring on the mill's baseball team. Of the formal education he'd all but dismissed, Joe would later say, "I ain't afraid to tell the world that it don't take school stuff to help a fella play ball."
Jackson began playing semipro ball at age 18 and quickly advanced to the minors. It was here that he earned his nickname "Shoeless Joe," after playing a game in his stockings because a new pair of spikes had given him blisters on his feet the previous day. Jackson plied his trade as a minor leaguer, (playing occasionally in the big leagues from 1908-1910) developing a swing so pure that Babe Ruth would later admit to copying it. For a man of average size, Jackson showed profound strength, wielding a bat of a greats.
The illiterate mill worker's son from the hills of South Carolina, gave every shred of himself to the game of baseball and became one the sport's most celebrated stars. In spite of this, the legacy of "Shoeless" Joe Jackson remains a sad one, tainted by association with the infamous "Black Sox Scandal" of the 1919 World Series. In response to suspicions that the White Sox had thrown the series under the influence of sports bookies, baseball commissioner Judge Kennesaw Mountain Landis banned Joe Jackson and seven of his teammates for life, sending a no-tolerance message regarding the presence of gambling in baseball. Of all the players, Jackson's involvement in the conspiracy seemed the least plausible, as his on-field stats were sparkling -- a .375 batting average and a perfect fielding percentage during the series. A jury later acquitted Jackson of the charges, and despite holding the third highest lifetime batting average in baseball history at .356, the legendary outfielder remains permanently barred from induction to the Hall of Fame in Cooperstown.
He could run, hit, and throw the best of them in both leagues, but he lacked judgment, education, and common sense. Being unable to read and write put this Southerner at a distinct disadvantage. Totally out of place in the big city, Joe probably did accept the promise of $5,000 to fix the games. If he chose to ignore the promises, his .375 World Series batting average was not enough to exonerate him. It was a pure tragedy of baseball and the American way of life.
Joe Jackson began his professional baseball career in 1908 with the Philadelphia Athletics organization. For his first two years Jackson was up and down between the minor and the major leagues, playing only ten games with the Athletics. Becoming increasingly unhappy Jackson was traded to the Cleveland Naps in 1911 where he played his first full season. The Cleveland organization would eventually be called the Indians in 1915. That year Jackson compiled a .408 batting average, a record that still stands for rookie seasons. Coming into the prime of his career Jackson batted .395 and led the American League in triples in 1912. The next year Jackson led the league with 197 hits and .551 slugging average.
In August of 1915 Jackson was traded to the Chicago White Sox. Even with his new surroundings his tremendous career continued. In 1917 Jackson and the White Sox accomplished the greatest feat in all of baseball, a World Series title. During the series Jackson batted .307 and led the White Sox to victory over the New York Giants.
In 1919, Jackson and the White Sox found themselves back in the running for another World Series ring. Jackson batted .351 during the regular season and .375 with perfect fielding in the World Series. The heavily favored Sox found themselves in a losing battle against the Cincinnati Reds. During the next year while batting .385 and leading the American league in triples Jackson was suspended after allegations that 8 members of the White Sox threw the previous World Series. In 1921 A Chicago jury acquitted Jackson of helping to fix the 1919 World Series, but Kenesaw Mountain Landis, the first commissioner of Baseball went against the ruling and banned all eight players including Joe Jackson from baseball for life.
In 1911, Jackson set the rookie batting average at .408, a record that still stands today.
He led the American League in triples in 1912, 1916 and 1920.
In 1913, Jackson led the league with 197 hits and .551 slugging average.
In 1917, Jackson won the World Series with the Chicago White Sox.
Jackson batted .351 during the regular season and .375 in the World Series to go along with a perfect 1.000 fielding average.
Batted .340 or better for eight of his thirteen seasons.
Ranked 3rd in All-time batting average with .356.