Acoustic
Martin 2006 OM-45 Roy Rogers #27 of 84
Martin 2006. OM-45 Roy Rogers in Vintage Natural Finish.
#27 of 84.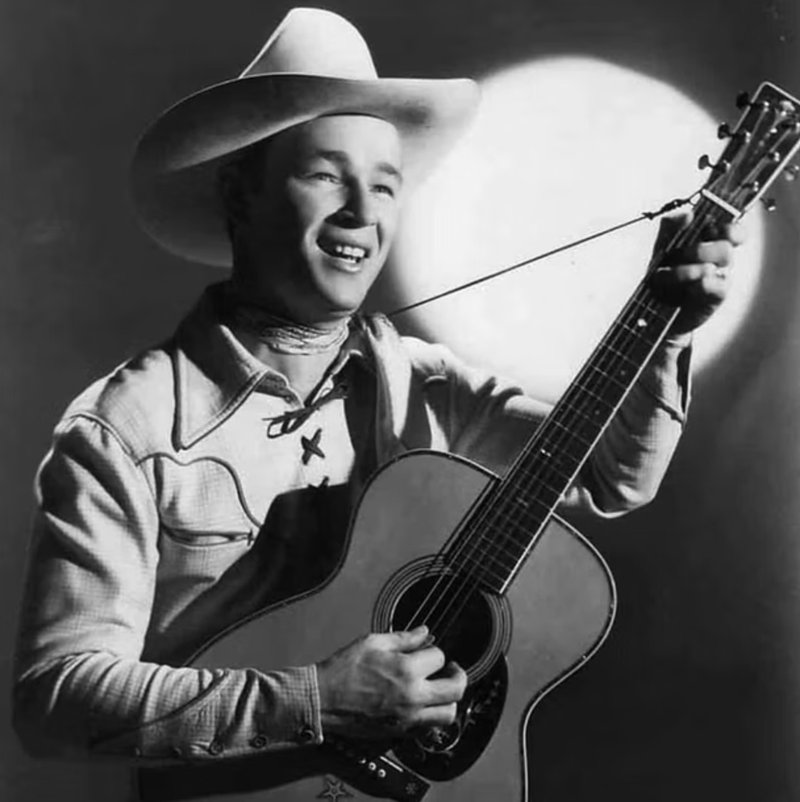 Specifications
Martin OM-45 Roy Rogers
The OM-45B Roy Rogers Brazilian and OM-45 Roy Rogers Limited Editions feature impressive Martin Golden Era® specifications throughout; only the variety of rosewood differentiates the two. The top is crafted with rare premium quality Adirondack spruce and supported by 1/4" scalloped Adirondack spruce braces. The long scale, 1-3/4" (at the nut) genuine mahogany neck showcases the Golden Era® modified-V neck profile, solid square tapered headstock and elongated diamond volute. A black African ebony fingerboard and matching 1936 style black African ebony bridge add to the classic vintage character.
Style 45 abalone pearl accents border the top, back and sides. The top and rosette abalone inlays are flanked by traditional black and white dyed holly wood line inlays; the back and sides inlay are flanked by wood fiber line inlays. Top, back, sides, headstock and fingerboard are bound with grained ivoroid, with the latter two also inset with mitered wood fiber inlays. Grained ivoroid is also utilized for the heelcap and endpiece. Additional vintage touches include Old Style 45 multicolored mosaic back strip, linen side reinforcement strips, fossilized ivory nut and through saddle and Old Style fossilized ivory bridge pins and endpin topped with 4mm black pearl dots.
The beveled and polished tortoise-color teardrop pickguard bears a recreation of the floral abalone inlay unique to Roy Rogers' original OM-45 Deluxe. Also true to original OM-45 specifications, the bridge wings boast snowflake inlays and the headstock features the classic antique Martin torch inlay. The Golden Era® Style 45 snowflake pattern graces the fingerboard, with Roy Rogers' signature inlaid between the 19th and 20th frets. Gold Waverly tuners with butterbean knobs, subtle amber shading on the top and polished gloss finish throughout complete the OM-45 Roy Rogers Limited Edition's vintage look. Although this guitar is not available with electronics, left-handed instruments may be ordered with no additional charge.
Protected by a heavy-duty Geib-style hardshell case, each OM-45B Roy Rogers Brazilian Limited Edition and OM-45 Roy Rogers Limited Edition guitar bears a special "sheriff's star" interior label personally signed by Roy Rogers' son, Roy "Dusty" Rogers, Jr., and Martin Chairman, C. F. Martin IV. Each label will be numbered in sequence with the total of that version of the Limited Edition.
* 1 3/4" wide fossilized ivory nut
* grained ivoroid bound ebony fingerboard
* full snowflake inlay pattern
* tropical mahogany neck
* dovetail neck joint
* bound peghead with torch inlay
* 25.4" scale length
* modified V neck shape
* gold plated precision Waverly tuners
* 15 3/16" lower bout dimension
* 4" deep at end pin
* Adirondack spruce top
* 1/4" scalloped Adirondack spruce struts
* ebony belly bridge with snowflake inlays
* fossilized ivory thru-saddle
* 2 3/8" string spacing at bridge
* Indian rosewood back & sides
* premium Abalone shell top, back & sides perimeter
* custom inlaid TorTis pickguard
* special numbered label is signed by C.F. Martin & Roy Rogers Jr.
* limited to 84 guitars worldwide
* 533E case
Born Leonard Slye, Roy Rogers was raised in rural Ohio where he played mandolin and called square dances at local gatherings. In 1930, he moved to California, working jobs as varied as highway construction and peach picking to pay the bills. He learned to accompany himself on guitar and in 1931 appeared on "Midnight Frolic," a radio show featuring amateur talent broadcast on KMCS in Inglewood.
Roy's radio appearance netted him a place in the Rocky Mountaineers, the first of several groups with which he sang and played during the next two years. In late 1933, he joined forces with Bob Nolan and Tim Spencer to found the Sons of the Pioneers. The group's solid harmonies, fine original material (including "Cool Water" and "Tumbling Tumbleweeds") and – with the addition of brothers Hugh and Karl Farr – impressive instrumental chops made it a seminal force in popularizing Western Swing. By 1936, the Sons of the Pioneers were featured on radio shows distributed throughout the United States, were recording for Decca and OKeh, and were appearing in western movies.
In 1937, Roy Rogers auditioned for Republic Pictures as a possible replacement for singing cowboy Gene Autry and was signed to a movie contract. The next year he played the lead role in "Under Western Stars." The film was a hit and Roy Rogers suddenly was a movie star.
Over the next 14 years, Roy became the "King of the Cowboys," appearing in more than 80 westerns as well as keeping a packed schedule of radio, concert (with the Sons of the Pioneers) and personal appearances. After his first wife Arlene died in 1946, leaving him with three small children, Roy fell in love with Dale Evans, his co-star in several pictures. The two were married in late 1947. Roy and Dale expanded the family with children of their own and went on to celebrate their 50th anniversary.
After co-starring with Bob Hope in "Son of Paleface," Roy tackled a new medium: television. The Roy Rogers Show premiered on NBC in 1951 and remained a Sunday night favorite for six years. Dale Evans co-starred in the show and also wrote its theme song, "Happy Trails."
In his later years, Roy devoted himself to business, investing in real estate and establishing a chain of Roy Rogers Restaurants in the 1980s. He also founded the Roy Rogers-Dale Evans Museum near his home in Apple Valley (precursor to the current museum in Missouri) to showcase a lifetime of show business keepsakes and often greeted visitors personally. He was the first person to be elected to the Country Music Hall of Fame twice, first in 1980 as an original member of the Sons of the Pioneers and again in 1988 in recognition for his own contributions to country music.
A short list of Roy's unique accomplishments follows:
The only performer to be elected to the Country Music Hall of Fame – Twice! The Sons of the Pioneers were the first Country and Western musical group to achieve national stardom.
Roy has FOUR stars on the Hollywood Walk of Fame.
Roy starred in 87 musical westerns for Republic Pictures and for 12 consecutive years in the '40s and 50's was the number one Western box office attraction.
His 16 TV specials on NBC always had higher ratings than his competitors, Alfred Hitchcock and Jack Benny.
Roy's picture appeared on 2.5 Billion boxes of Post Cereals.
His radio show aired on more than 500 stations and was heard by more than 20 million people each week.
Roy and Dale are the only couple ever chosen to be the Grand Marshals of the Tournament of Roses Parade and Rose Bowl game in 1977.