Electric
MAX 1986 Les Paul '58 Iced Tea Burst
Peter 'MAX' Baranet from MAX Guitars in Hollywood.
MAX 1986. Les Paul '58 in Iced Tea Burst Finish.
Original Gibson PAF's Humbucker Pickups.
#8 3047
1 of the 2 LP's 58 MAX ever built.
Both guitars were built the same year 1986.
Some facts about Max Baranet:

Peter "Max" Baranet was one of the USA's premier electric guitar builders. He used to make guitars in Los Angeles from 1976 – 1990, before he retired from guitar making and moved to Arizona. MAX has made Gibson Flying V or Les Paul replicas for many musical icons such Slash (Guns 'n Roses), Eddie Van Halen, Jeff Beck, Zakk Wylde, Prince, Mick Jagger, Tom petty, Lenny Kravitz, Nikki Sixx.

Peter "Max" Baranet's client list used to include the following artists:
Yes, KISS, Red Hot Chili Peppers, Fleetwood Mac, Judas Priest, RATT, Poison, Brian Setzer, The Go Go's, The Grateful Dead, Jackson Brown, Jethro Tull, Rickie Lee Jones, Steve Hunter, Girlschool, Larry Coryell, Ray Gomez, Larry Graham, The Commodores, Ian Hunter, Dave Mason, ABBA, DEVO, G.E. Smith, Yngwie Malmsteen, Crosby, Stills & Nash,

WHAT MAKES THE 1959 LES PAUL SOUND? According to MAX...
"The are five main factors which contribute to create the sound of a 1959 Les Paul Sunburst.
First, the shape and construction of the guitar. Next, the type of wood used. The type of finish. Amazingly, even the type of glue affects the sound. And of course, the pickups".

Max has duplicated these factors closer, by far, than anyone else in the world. A MAX Flametop is an exact replica of an authentic 1958 or 1959 Gibson Les Paul Standard which he had in his possession for many years.

In late 1986, Guns N' Roses were recording Appetite For Destruction. Slash wrote in his book, "I sold my equipment for cash to score more smack." As a result, for the early sessions, Slash had to suffer various B.C. Rich, Jacksons, and a borrowed Gibson SG. According to Slash, they all sounded "horrible."

Guns manager Alan Niven realized there was a slight problem when he pulled up at Take One Studios in Burbank where Slash was recording his parts. In a 2016 interview for LA Weekly, Niven recalled seeing the ass end of a Gibson SG hanging out the windshield of the Guns rental van. The SG and the windshield had fallen victim to Slash's frustration with being unable to properly convey his essence onto tape with these various other guitars. In a fit of rage, Slash smashed the SG through the windshield, neck-first. As Slash recounts in his book, he was so desperate that he called and asked Paul Stanley for a guitar. However, Paul Stanley, who wanted to produce Appetite For Destruction, was still pissed off at the Guns guys for the irreverent way they had turned him down and declined (to put it politely).

Understanding the gravity of the situation, Niven stopped by Music Works on Artesia Blvd. and spoke to the owner, Jim Foote, about the problem. Foote, the West Coast's guru of vintage instruments, suggested the now famous Kris Derrig '59 Les Paul replica.

According to the Owner of Guitars R US [Howie Hubberman]
"...just to clarify if anyone is interested. There has been and still is some confusion about the Replica Les Pauls that Slash has and does own from back in the early days of the band. The short story version is that he had 4. 2 were made by Peter "Max" Baranet and 2 were made by Kris Derrig, both of whom were guitar builders in Southern California. 1 of the Max guitars, The HUNTER burst, was lost by Slash to a pawn shop and later sold. Slash still has the 3 others.
The Steve "HUNTER" burst was built by Peter "Max" Baranet. That guitar was sold out of my guitar shop "Guitars R Us" back in the mid 1980's. It was 1 of 2 Max-made Les Pauls that Slash acquired from my shop. Slash also acquired 2 hand-made replica Les Pauls that were made by Kris Derrig. The band's manager back at that time, Alan Niven owned a Derrig-Made replica LP of his own and brought it into the studio during the Appetite recordings. Slash gave it a test drive and really connected with it. He later sought out and purchased 1 for himself as well as acquired the guitar that Alan owned. If I have photos of any of these instruments, I will try to post some in the near future."

According to Peter "Max" Baranet. Posted by Max on the Les Paul Forum:
"...Guns-n-Roses lived and rehearsed in a garage in the alley behind my shop in Hollywood. I knew these guys before Guns-n-Roses ever formed. One Friday afternoon Slash came in with a friend of mine. He had just been signed to a record deal and was supposed to start recording their first record on Monday. Slash didn't have a guitar, any guitar! And he knew I made 'bursts' and wanted one. I had nothing finished. He kept pressing me to help him out somehow. Finally I told him all I had that was finished was my personal 'burst'. I let him take it on loan. He came back the following week and said he loved it and wanted to buy it. He did not want the original 50's parts that were on it so he had them removed and newer parts put on. This is the guitar he used in the studio.
The Derrig 'burst' was purchased later and was used on tour. it is the one in all the photos. It is the one he refers to as his 'main guitar' as, at that time, it was his main live guitar until he bought that ugly 80's Gibson. He keeps my guitar locked away in storage and only brings it out to record with. this is his main recording guitar. His interviews are vague and confusing but, I know because I was there and I still hang out with Slash every once in a while. Sorry to differ with your story but that's the way it happened." Keep the faith" Max.

Kris Derrig died in May 1987 from a form of cancer. He didn't live to see the impact his Les Paul replica would have on Guns N' Roses debut album, Appetite For Destruction, and the signature sound of Slash.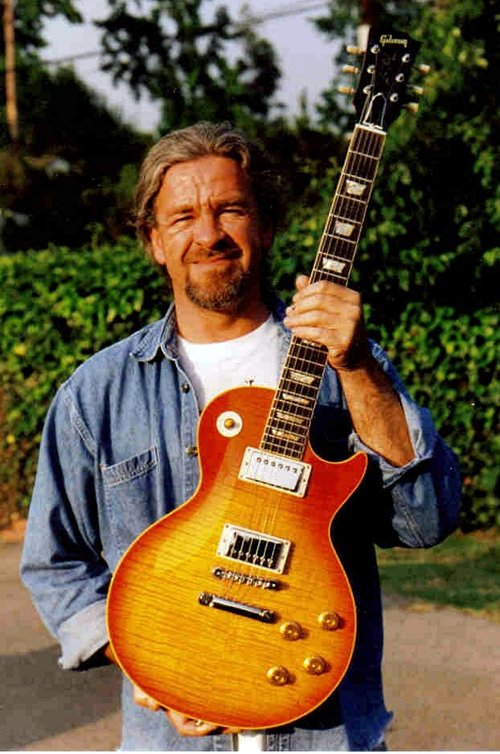 Peter "Max" Baranet died March 9th 2023 in Phoenix AZ. R.I.P