12 String Electric
Ovation 1978 Preacher 1285 12 String Vintage Natural
Ovation 1978. Preacher 1285 12 String in Vintage Natural Finish.
1 Piece Mahogany Contour Body.
Mahogany Neck Reinforced with 3 Strips of Carbon Fibre, 1 running down the back of the Neck and 2 under the 24 Fret Ebony Fingerboard set with Abalone Inlays.
FET onboard Preamp for a Wide Range of Tonal Sounds.
Chrome Hardware.
#E 15423.
From The Borst Electric Guitar Collection USA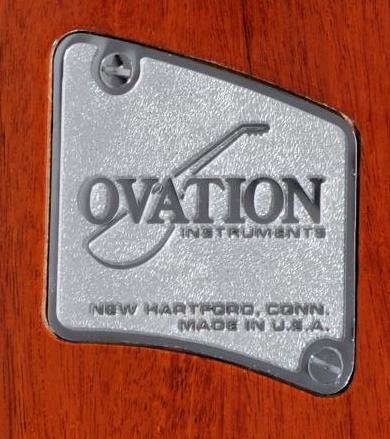 The Ovation FET Preamp:
The electronics feature 2 Ovation Mini-Humbuckers via an onboard FET preamplifier (powered by 2 x 9V batteries accessed from the large plate on the rear of the guitar).
Unlike a regular passive tone control, the Deacon tone control is active, with a central off (flat) position. Turning either way from centre boosts bass or treble response.
The pickup selector gives the following combinations:
Neck Pickup (switch towards headstock)
Bridge pickup (switch in centre)
Both pickups out-of-phase (switch towards bridge)
There are 2 trim-pots accessible through the battery cavity, 1 adjusts the degree of phase when both pickups are selected and the other is an output balance control for the neck pickup only.
The second switch is a mid-range notch filter which produces a similar effect to a coil-tap, but without a significant drop in output.