Electric
Pensa-Suhr 1987 Flat Top Strat Cascade Green EX-Bernard Grobman
Pensa-Suhr 1987. Flat Top Strat in Cascade Green Finish.
EX-Bernard Grobman.
1 Piece Maple Neck with Rosewood Fretboard.
Non Recessed Floyd Rose Tremolo Bridge and Locking Nut.
SA/SA/85 EMG Pickups.
Black Hardware.
#7/1987.
Built and signed by John Suhr.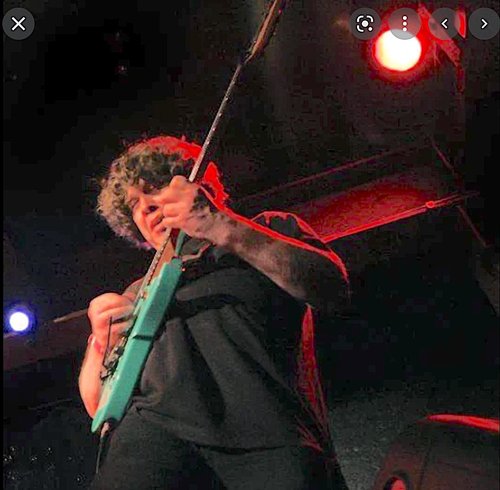 Bernard Grobman
Grammy nominated guitarist, composer and producer Bernard Grobman has toured and/or recorded with some of the biggest names in Jazz , Pop, and R&B including: Maynard Ferguson, Dr. John, Peter Erskine, Michael Brecker, Michelle Camillo, Ray Baretto, Gato Barbieri, Steve Gadd, Bernard Purdie, En Vogue, Salt n Pepa, Kanye West, Babyface and many more. He has done extensive live playing on Broadway and for dance companies like the Joffrey Ballet and the Alvin Ailey Dance Theater.
Over the years, Bernard Grobman has worked with the likes of Salt N Pepa, 98 Degrees and Miss Jones. He recently co-wrote ñSame Cryî on JinÍs debut album for Virgin Records and has just completed projects on forthcoming releases by artists including Anthony Hamilton, DMX and Jadakiss.
Bernard has also played guitar, produced and co-written on records by Dead Prez (their entire first album and Hell Yeah from the 2 fast 2 Furious soundtrack), Stacie Orrico, Trey Songz, SWV, En Vogue, The Braxtons, Eric Benet, Kenny Latimore, Lisette Melendez, Christopher Williams, Brand Nubian, Vanessa Williams, Jay-Z, Mica Paris, UGK, Busta Rhymes, Changing Faces, M-People, Vertical Hold (featuring Angie Stone), Ruff Ryders, DMX, Styles P, Roc Raida, The X-Ecutioners, Dougie Fresh, Freddie Foxx, Donnell Jones, Omar Epps, Terry and Monica, Billie Lawrence, Andrea Martin,The Sounds of Blackness, Sheryl Crow, Juggaknots and many more.
He has also appeared on the motion picture soundtracks for "Bulletproof", "Why Do Fools Fall in Love", "Don't Be a Menace to South Central.......", "Money Talks", "Jason's Lyric", "High School High" and "2 Fast 2 Furious".
Not only that, he has toured with Maynard Ferguson, Dr John, Sarah Brightman, Jesus Christ Superstar, The Joffrey Ballet, Jane Olivor, Gato Barbieri, The Cover Girls and others.
He's recorded and performed with musicians such as Peter Erskine, Will Lee, Marcus Miller, Pete Levin, Jorge Dalto, Ray Barretto, Steve Gadd, Bernard Purdie, Michael Brecker, Randy Brecker, Ronnie Cuber, Lennie Pickett, Dr John, Melvin Gibbs, Michelle Camillo, Kenny Werner, Tom Rainey, Bob Mintzer, Biff Hanon, Ray Brinker, Steve Bailey, Jeff Berlin, John Faddis, Jimmy Owens, Gershon Kingsley, Jorge Calandrelli, Carlos Franzetti, Ignaceo Berroa, Marc Copland, Andy Laverne, Lincoln Goines, Jeff Andrews, Fred Alias, Benny Rietveld, Luis Perrico Ortiz, Richie Ray and Bobby Cruz, Larry Harlow, Mark Egan, Steve Jordan, Jerry Jemmott, Danny Gotlieb, Steve Kahn, Jay Berliner, Jim Pugh, Ratso Harris, and many others.
He has worked with great composers and producers such as Kanye West, Dave "Jam" Hall (Mary J Blige what's the 411), All- Star, Jorge Calandreli, Carlos Franzetti, Carlos Berrios, Jay Chattaway, Teo Macero and has credits alongside Narada Michael Walden, Babyface, The Neptunes, Scott Storch, Swizz Beatz, Missie Elliott, Diane Warren, Troy Taylor, Timbaland, and others.
His live work included being the featured soloist with the Alvin Ailey Dance Theater and The Joffrey Ballet orchestras, the house orchestra at Carnegie Hall and BAM, and in the pit orchestras for Grease, They're Playing my Song, The Me Nobody Knows, The First, and Big River.
Latin work includes recordings for the Fania Records label, Hector Lavoe, Nydia Caro, Ednita Nazario, The Fania All Stars, Willie Colon, Ricky Ray and Bobby Cruz and Willie Chirino.
Nominated for Grammies in 1995 - The Way That You Love - Vanessa Williams and 1996 Champagne "Soundtrack Bulletproof" Salt n Pepa artists. On one of API's 10 most important records of the year 2004 Dead Prez RBG Revolutionary but Gangsta.
As a guitarist, Bernard Grobman toured with rock 'n' roll Hall of Fame inductee Dr. John and jazz legends Maynard Ferguson and Sarah Brightman. He has also recorded with Latin music icons The Fania All Stars, Hector Lavoe, Nydia Caro and Ednita Nazario.
Pro producer and session guitarist with 4 Grammy Nominations, 1 Song of the Year win, over 15 million records sold.