Electric
Tom Anderson 1989 Gran Am Translucent Green w/Matching Headstock
Tom Anderson 1989. Gran Am in Translucent Green Finish with Matching Headstock.
1 Piece Solid Quilt Maple Body.
1 Piece Birdseye Maple neck with Pau Ferro Fretboard & Old Style Headstock.
Sunken Floyd Rose Tremolo Bridge.
Switcheroo.
Gold Hardware.
#03-06-89.
Extract from PREMIER GUITAR Magazine:
Builder Profile: Tom Anderson Guitarworks
Michael Ross
June 16, 2010
Tom Anderson shares how he became a custom-guitar pioneer.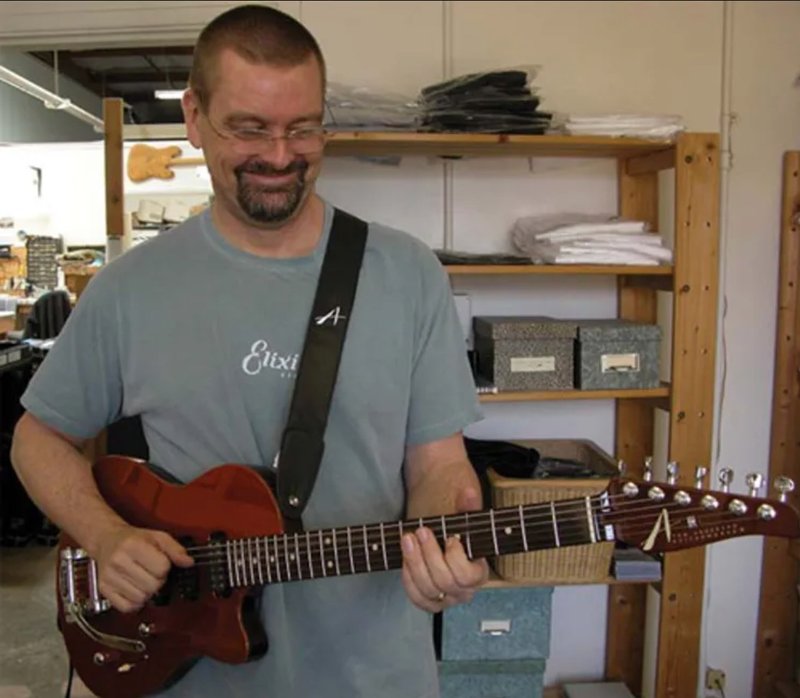 Tom Anderson testing out a Bigsby-equipped Atom Special. Photograph by Roy Fought.

Until the '80s, guitarists mainly played mass-produced instruments: Fender, Gibson, Gretsch, or Rickenbacker—that was pretty much it. Then small builders like Schecter and Jackson began a trend toward custom-crafted guitars tailored to needs that weren't being met by the big boys—like the desire for locking tremolos, thinner necks, and more modern aesthetics.

A product of those heady times, Tom Anderson has risen from humble beginnings in his kitchen and garage to be one of the most respected names in the thriving custom guitar market. We recently had the pleasure of hearing this American success story—and Anderson's new take on one of the first electric guitar designs— firsthand. Listen up.
Were you a player originally?

Yeah, I started guitar when I was eight years old, convinced all through school that I was going to be a rock star and buy my parents a condo on Maui. I had a band in sixth grade, and later I made a living playing around LA for about five years after high school. Then I realized that I wasn't going be a rock star and buy my parents a condo on Maui. I still loved guitar and did a lot of tinkering on my own guitars: taking them apart and changing pickups, etc. I would gig at night, and during the day I would do repairs at music stores around the area. In the late '70s, when disco happened and the playing situation got bad, it became obvious that I wasn't going to make a living playing. I was thinking about getting married, so I went to work building guitars with Dave Schecter in 1977.

When did you split from Schecter?

It was 1984. In 1982, Schecter was floundering financially and they brought in some investors who decided to make stuff overseas because it would be cheaper. They sent me to Japan to source stuff for them, but that wasn't what I wanted to do. Until then we had made everything at Schecter: we had a metal shop and a wood shop, and we did the finishing right there. It was a fun place to learn. Dave encouraged me to leave. He said, "If you really want to do what you want, you need to start your own company." That was the furthest thing from my mind. Still, I came home from work and told my wife that I quit my job. We had a two-year-old and a baby due in two months, but it worked out.

Did you start mostly making necks, bodies, and parts?

The first year, I ran the company from my garage, and the plan was to just make bodies and necks. I wasn't planning on being a guitar manufacturer. What fed our family that first year was that Schecter Japan needed American-made pickups. The American Schecter factory closed a few months after I left, and nobody knew how to make pickups. Schecter Japan contacted me and we sat down at Carl's Jr. and made a deal for me to make them 300 Strat pickups. I set up a little pickup-making shop in the kitchen of our house. After I got through making necks and bodies in our garage during the day, we sat up making pickups every night. That first year we lived on those pickups—we still make them to this day.
Anderson's employees joke that, because Jesse Flynt selects customers' gorgeous maple tops, he can't show his face to the public or he'll never be able to live a normal life again.
What prompted you to start making guitars?

It soon became clear that if I was going to do this on a serious level, I needed more space. After a year, I moved into a 1500-square-foot industrial space just across the parking lot from where we are now.
I was selling bodies and necks to John Suhr at Rudy's Music Stop, Roger Sadowsky, and Jim Tyler—a bunch of guys that didn't have the facilities to do it themselves. We were doing a lot of OEM small manufacturer stuff and selling to stores because people were building parts guitars.
I had a local dealer in Hollywood who said, "You know, if you assembled some guitars out of these parts, I could sell them." So we did a few pieces here and there. At that point, there were just four of us here at the shop. I realized that it was more rewarding to make a complete guitar. A lot of times you make a body or neck and send them to a store where the guy who strings up the guitars puts it together. He doesn't do good fretwork, so the parts you worked so hard on turn into a mediocre guitar. That was frustrating, so we started putting them together and doing all the detail work ourselves. It was a lot more fun, and we felt really good about the end product. In 1990, we stopped selling parts to people and just focused on making complete guitars.

At that point, we weren't painting our guitars— Pat Wilkinson was doing it. About 1992, we started the painting process ourselves, and by '93 we were fully internalized. We start with lumber, do all the woodworking and finishing, and make the pickguards and pickups. The only things we buy are metal parts like tuners and bridges—but we've been able to have bridges made the way we want them.

How has the custom market changed since you started?

Back in the middle '80s, the custom market was small. The big guys owned the guitar business. There was Schecter, and Hamer was still smallish. Nowadays there are tons of small builders, whether it's a one-man shop or a three-man shop. In part, that's because information is so much more accessible, a guy can go on the Gear Page and show his stuff, whereas in the old days it was all expensive print ads, so it was tough for someone starting out to get nationwide exposure. Trends have changed, too. When we started in the '80s, almost every guitar we made had a Floyd Rose tremolo on it.