Electric
Warrior 2006 Celtic 10th Anniversary
Warrior 2006. Celtic 10th Anniversary.
Private Stock.
1 of 3 built with 3 different Body Shapes but with this Inlay on the Fretboard.
This is the very guitar reproduced below on the back cover of the February 2006 Vintage Guitar Magazine.
Description:
Hand sculpted exceptional quilted top, back, and headstock from 150+ year old Maple.
5 piece body of Quilted Maple, Purpleheart and Vintage mahogany.
7-piece neck of aged Mahogany, Purple Heart, and Maple.
Gaboon Ebony fretboard with gold Mother-of-Pearl, Black Abalone, and Red Stone hand-inlayed in a Celtic Knot pattern.
The pick-up covers, knobs, and tuning keys are 24-carat engraved gold.
The frets are gold alloyed stainless steel.
Tuning keys are Hand-tooled Gold USA Sperzels.
Pickups are Duncan '59 and Duncan Custom with a 5-way blade for extreme versatility.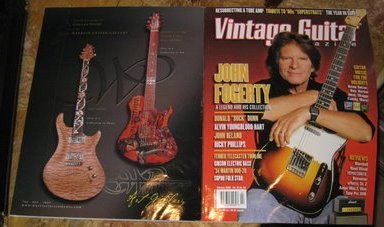 Warrior acoustics and electric guitars are built by J.D Lewis, Roseville, Georgia since 1994.
The company Warrior, was started by Bruce Bennett,  JD Lewis and Michael Shawn, who was later replaced by William Fix as 1/3rd of the partnership. Will was Bruce's Brother-in-law at that time.
The earliest designs for the Warriors were by Bruce Bennett, and were originally drawn while he was working for Tobias Basses, about 8 months before Warrior came into existence.  Bruce was the head Luthier for Warrior from 1994-1998.