Electric
Dubreuille 1999 Bat Guitar Satin Black
Philippe Dubreuille 1999. Bat Guitar in Satin Black Finish.
1 Benedetti Pickup P 90 type.
Dubreuille built only 3 Bat Guitars. They are all different.
#9.9.99.
Philippe Dubreuille is based in London from 2000.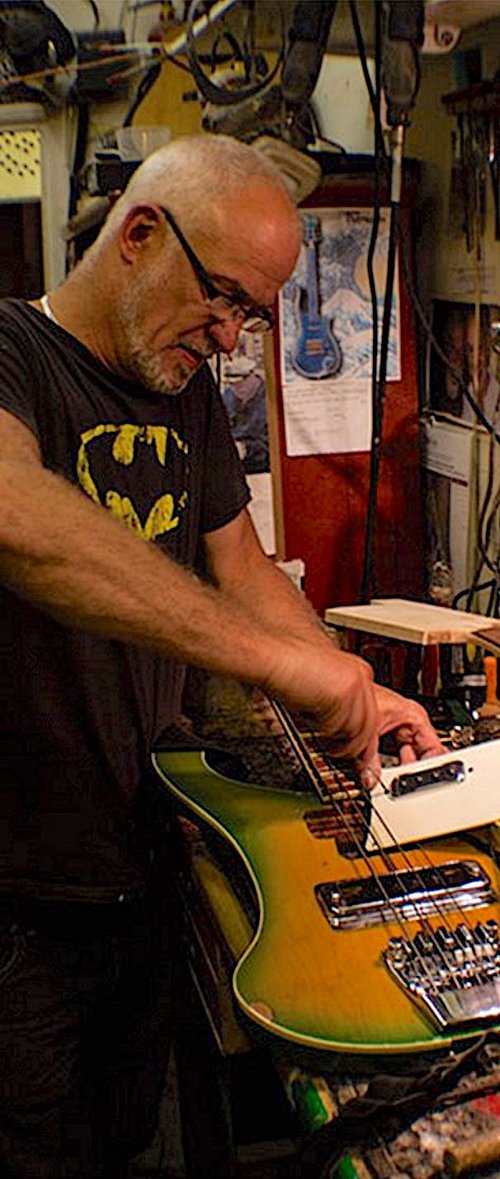 From Dubreuille's website:
If you're looking to buy a guitar in London, there is one place you definitely should go. Denmark Street, just off Charing Cross Road in the West End, is the capital's musical Mecca.
"There is part of my soul in every guitar I make."
But what not everyone knows is that in order to find the finest guitars, you have to venture down from street level into the murky, dark and claustrophobic catacombs underneath. This is where the magic of Philippe Dubreuille happens. But according to the French guitar guru, "location isn't important, only my hands and head."
Dubreuille spends most days of the week down here, crafting instruments that may well end up on stage at Wembley Stadium or Madison Square Garden in the hands of such legendary guitar heroes as Noel Gallagher, Iggy Pop and Dave Stewart. As you would expect from a man who makes ZZ Top's golden axes, Dubreuille is very passionate about his trade.
"The electric sounds come more from the gut than the brain," he explains. "There is part of my soul in every guitar I make." He strongly believes that the vibes and energy of the instrument's maker are embedded in it. "I know exactly what the guitar will sound like before I start the process – I have the creative concept clear in my head immediately," he says beaming with confidence. But we have no reason to doubt him, for anyone who can impress Jeff Beck – one of the best guitarists ever according to Dubreuille – knows what they're doing.
As a kid growing up in Paris and then Geneva, Dubreuille played music with his friends and dreamt the usual teenage fantasy of becoming a rock star. "We liked bands like Led Zeppelin, Spencer Davies and The Stooges, and we tried to play like them, but it turned out to be more like noise," he remembers with a smile.
As fate would have it, he found his trade by accident. After losing his guitar, Dubreuille successfully constructed a new one and, soon enough, was making guitars for all his friends. Eventually, he ended up in a guitar repair shop in Geneva where he "learned the tricks of the trade" and built up an impressive portfolio. One evening when The Cure were in town, he snuck backstage to show the band his instruments. The band's front man, Robert Smith, bought one right there and then, and Dubreuille hasn't looked back since.
After a tour of duty at a guitar factory in Portugal, he ended up in London. But the British, according to Dubreuille, are very conservative in their guitar taste: "All they want is 
a Gibson or a Strat," he complains. But when a customer pops down with a weird request, his face lights up.
"The crazier, the better," he says. "Because that means a challenge and a chance for me to make a really unique guitar."
A standard guitar takes him about 12 weeks to craft, which is quite fast. Speed, he says, is often a matter of importance for his customers.
Right now Dubreuille is working on a new pet project. Doobie (an Anglicised nickname of his surname) is a new line of red and white guitars, bass and amplifiers that will be launched in his own store next year. "Doobie feels like being kicked by someone, it can be that loud. The sound is very physical – it's like your whole body is shaking."
It seems Dubreuille's passion for what he does, if nothing else, will see him succeed.