Electric
Fender 1993 Stratocaster Harley-Davidson 90th Anniversary #024 of 109 EX-Gary Chapman
Fender 1993. Stratocaster Harley-Davidson 90th Anniversary.
EX-Gary Chapman.
Custom Shop Diamond Dealer Edition.
#DE1 - 024 of 109.
Designed by Pamelina Hovnatanian.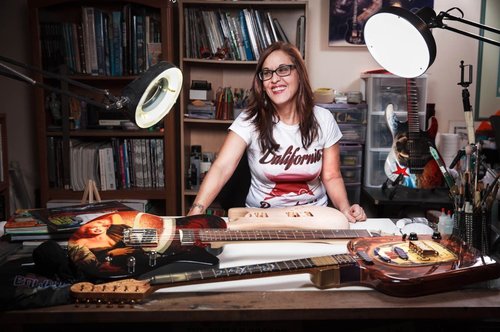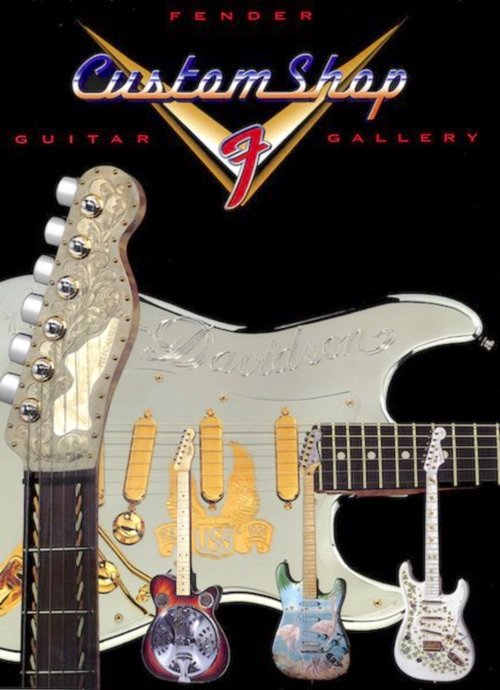 Custom Shop Diamond Dealer Edition (Only 40 instruments from the series were Diamond Dealer Edition)
Built in 1993 by the Fender Custom Shop to commemorate the 90th Anniversary of Harley-Davidson Motorcycles.
Custom Aluminum Body Hand-Engraved then Chrome Plated.
The Pickguard is selectively plated in chrome and gold.
Figured Birdseye Maple Neck and Ebony Fretboard with Stainless Steel Fret Markers with an Engraved 90th Anniversary Edition Plate at 12th Fret.
Sperzel Chrome Tuners.
Of the 109 guitars built, 9 went to Harley-Davidson management, with approximately 40 in the US and approximately 60 to the rest of the world.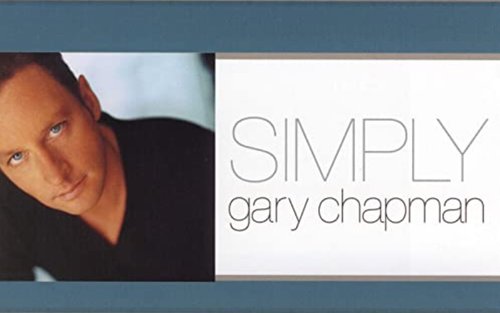 Short biography:
Born August 19th 1957 in Waurika, Oklahoma, Chapman grew up in De Leon, Texas, the son of an Assemblies of God pastor, the Rev. Terry W. Chapman, who ministered for 56 years before his death in 2009.
Chapman performed in bands throughout high school and college. After going to Bible college at what is now Southwestern Assemblies of God University in Waxahachie, Texas, he moved to Nashville, Tennessee, and was hired as guitar player for The Rambos.
In 1979, his song "Father's Eyes" was recorded as the title track to Amy Grant's Grammy-nominated second album My Father's Eyes.
In 1982, his song "Finally", recorded by T. G. Sheppard, reached No. 1 on the country music charts. He also received a Dove Award as Songwriter of the Year from the Gospel Music Association in 1981.
During the rest of the 1980s and the early 1990s, Chapman continued to write, record, and produce music, while touring as an opening act for various artists. He sang "Brave Hearts" in 1987 for the Touchstone Pictures film Ernest Goes to Camp. He also collaborated with numerous artists in the singing of "Amazing Grace" in the 1994 film Maverick.
He was nominated for a Grammy Award for Best Pop/Contemporary Gospel Album in 1994 for The Light Inside. The album also resulted in a Dove Award nomination for Male Vocalist of the Year, and yielded a contemporary Christian music chart No. 1 song, "Sweet Glow of Mercy." He won a second Dove Award in 1994 for co-producing the album Songs from the Loft, featuring various artists.
In April 1996, Chapman won Male Vocalist of the Year at the GMA Dove Awards. His 1996 album, Shelter, delivered another No. 1, "One of Two", with "Man After Your Own Heart" resulting in a Dove Award for Inspirational Recorded Song of the Year and featuring on the Dove Award-winning Special Event Album of the Year, My Utmost for His Highest. Shelter also received a 1997 Grammy nomination for Best Pop/Contemporary Gospel Album.
At the 1998 Dove Awards, his album Hymns From The Ryman, featuring him and other artists, won Country Album of the Year.