Electric
Fender 1999 Stratocaster Mustang 35th Anniversary #3 of 35
Fender 1999. Stratocaster Mustang 35th Anniversary #3 of 35.
Custom Shop.
Engraved Aluminum Chrome Plated Body.
1 Piece Birdseye Maple Neck with Ebony Fretboard inlaid with Running Mustangs cut from Various Metals and Mother of Pearl.
Original Ford Mustang® parts as the Mustang® Emblem & the Mustang® Radio Knobs for the Volume and Tone controls.
Locking Tuners.
All Chrome Hardware.
Of the 35 that were built, 20 went to Ford Corporate executives with the remaining 15 being given away to one lucky concert goer at each of the 15 concerts that were held in celebration of the Mustang's 35th Anniversary.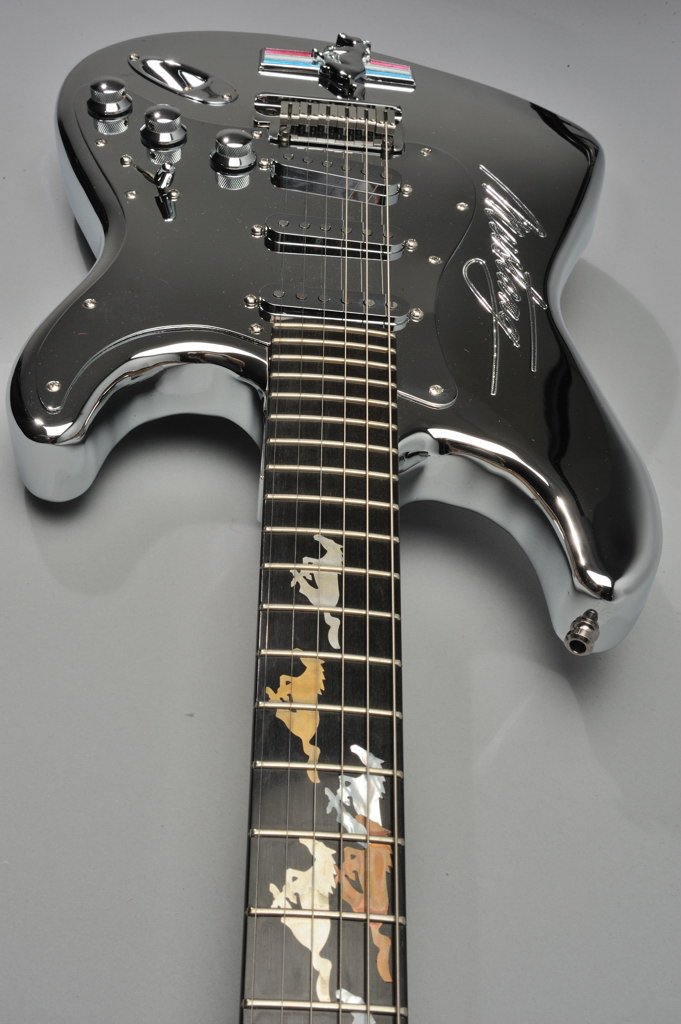 The 1999 News Release

" SCOTTSDALE, AZ – Two of America's most famous companies and endeared cultural icons have recently teamed up to celebrate a very special birthday. Fender® Musical Instruments Corporation, maker of the famed Stratocaster® ® electric guitar, and Ford Motor Company have gotten together to hit the road in honour of the 35th anniversary of Ford's first Mustang®.
J. Walter Thompson, one of the oldest and most successful advertising agencies in the world, brought the two companies together for the Mustang® "Rhythm of the Road" tour, a fifteen-date music extravaganza featuring The Cranberries, Collective Soul and Fender®'s traveling interactive music exhibit, The Roadhouse™.

As part of the celebration, Fender®'s Custom Shop created thirty-five limited edition chrome Stratocaster® guitars, and Ford kicked in one very souped-up, custom-made 1999 Mustang® GT convertible that was customized by Classic Design Concepts.
The custom Strats are chromed aluminum guitars, and feature "Running Mustang®" inlays on their ebony fingerboards. To top that, Fender® added an original Mustang® emblem just behind the tailpiece, and original Mustang® radio knobs for the volume and tone controls. Fifteen of the guitars went to lucky concert -goers, one for each stop of the tour, while one very special winner took home the Mustang®.
The Mustang® GT convertible is painted a brilliant Silver Metallic to match the guitar. The racing stripes down both of its sides resemble the guitar's fingerboard, complete with its "Racing Mustang®" inlays, and are capped off with a classic Fender® Stratocaster® headstock design. There's also an original Fender® amplifier logo on the Mustang®'s tonneau cover, which when opened reveals two built-in and fully playable Fender® Amp Can™ amplifiers that are powered by the car's battery. Classic Design Concepts also added Torq-Thrust II wheels, and a CDC light-bar to their very unique, one-off custom job.

This is the first promotional alliance between the Fender® and Ford, but representatives from both companies are looking forward to working together in the future.